General information
Spinal muscular atrophy (SMA) is a rare neuromuscular disorder. The small number of individuals affected by SMA presents a challenge to the study of the disorder and the understanding of the impact of Standards of Care and newly-developed SMA therapies.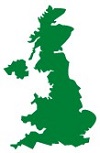 The purpose of the UK SMA Patient Registry is to collect medical and quality of life information directly from individuals with SMA. By registering themselves in the online registry, patients are able to engage with research and report their own information, on a platform where their voices will be heard. More information
---
This registry is for patients with Spinal Muscular Atrophy (SMA) and is designed for patients resident in the UK or in Ireland. In a number of other countries, registries already exist or are being developed. More information
---
If you are a patient with Spinal Muscular Atrophy (SMA) and register here, we can inform you of scientific and therapy developments that might be of specific interest to you. In addition, we can inform you of new clinical trials. By registering, you would be helping researchers obtain data about the prevalence of SMA and about the impact of new SMA treatments on the progression of the disorder which could be of benefit to all SMA patients. You would also help achieve improved care for all SMA patients, nationally and globally. More information
---
One of the most important pieces of information that we request in the patient registry is a copy of each patient's genetic report. If you, as a patient, have your genetic report, or if you can obtain it easily from your doctor or geneticist, then please upload a copy to the patient registry. If it is difficult for you to obtain it yourself, we can ask your doctor or geneticist for a copy on your behalf. In this case, it is important that you                                            let us know the contact details of the doctor/hospital where                                              the genetic test was carried out.
The self-report online registration also includes questionnaires: short questionnaires collecting patients' perception of their quality of life; and a longer questionnaire collecting medical information, including questions about diagnosis, physical condition including motor function (ability to sit/walk), how food is taken, respiratory function (breathing ability) and information about SMA treatment. This questionnaire collects the TREAT-NMD SMA Expanded Core Dataset and is used by all national registries which are part of the TREAT-NMD SMA Global Registries Network. When completing the questionnaires, it is possible to save the answers midway through and return to them at a later date.  More information
---
Patients can register on their own by clicking 'Registration'. This will lead them to the web application for the UK SMA Patient Registry, which is an online (internet-based) self-report registry. A self-report registry is one in which patients enter their details themselves, which is often a quicker and easier process than alternatives, but you can of course talk to your own doctor or to                                        the patient registry staff at any time if you have any questions.
Roughly speaking, the registration process contains the following steps:
1. You create your user account. This means that you enter your name, date of birth, gender, email address and choose a password. You only need to create your user account once; using the username (email address) and password you create now, you can log in again later at any time in order to continue an incomplete registration, update your clinical details and/or contact information or simply view your data at any time, whether your registration is complete or not.
2. In the next step, you as the user account owner will enter your contact details.
3. After that, you can add patients to your user account. You can only add either yourself or a child of whom you are a parent or guardian.
4. Next, an Informed Consent Form is automatically created for each patient. The consent forms are personalised, containing the name of the respective patient as well as of the user account owner (if different from the patient). You will be able to give your consent (agree to participate in the registry) online. The Informed Consent is a PDF document, which you can download and print for your own documentation.
5. If a genetic test has been performed, you then provide us with the contact details where this test was done. If possible, you also upload a copy of your genetic report to the patient registry.
6. Finally, you fill in the questionnaires. If necessary, you can save and interrupt your registration any time, for instance in order to consult a doctor to discuss questions. The registration process is supported by the registry curator, a member of staff working at the John Walton Muscular Dystrophy Research Centre, Newcastle University. The registry curator is responsible for checking that the registrations are complete and the genetic information is correct and answering patients' questions. The registry curator is happy to hear from anybody with any questions and will get back to you as soon as possible. More information
---
The anonymised medical information about you obtained during this study may be made available to researchers, study monitors and authorized representatives of the regulatory authorities and other government agencies. Before third parties are granted access to this anonymous information, they first must have the approval of the UK SMA Patient Registry Steering Committee. Anonymous data released to third parties will be identifiable only by a code. The anonymised medical information may be used in reports or public scientific presentations, and used in research, now or in the future. The results of this study may be published in a medical journal and shown at medical meetings. You will not be identified (by name or any other means) in any of these publications.
Universities, NHS organisations and companies may use patient data to do research to make health and care better. When companies do research to develop new treatments, they must prove that they need to use patient data for the research, and that they need to do the research to develop new treatments. In legal terms, this means that they have a 'legitimate interest' in using patient data.
If you withdraw your consent for participating in this study, your study data that were collected before you withdrew your consent may still be used as described above. Once you have withdrawn your consent for participating in the study, no further data will be collected about you for the purposes of this study. More information
---
Data security 
Your data is stored on a secure computer, which can be accessed only by selected people. Information that you enter online via the internet is encrypted while being transferred, so that it cannot be intercepted.
 
---
Operator
The UK SMA Patient Registry is operated by the John Walton Muscular Dystrophy Research Centre at Newcastle University.